More than 30 union members have made a commitment to share their time and talents with our union by being part of the 2022 bargaining process. We have used the results of our member survey and the voices of our bargaining delegates and other union members to develop our bargaining goals.
Our first bargaining session was 2/24/22 and we have now completed more than 13 bargaining sessions with the county. Our current contract expired 6/30/22 and it is not unusual to have bargaining go past this date. Be assured that your rights are all in place while we work hard to make our contract even stronger!
Our bargaining team is made up of amazing union members. Show your union support on our bargaining days or anytime you feel like it.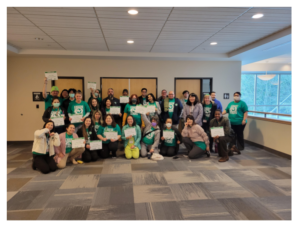 Multnomah County Health Department Pharmacists Unit – AFSCME Local 88-4 successfully completed their 1st contract. Thanks to the amazing bargaining team: Marion Clark, Rachel Uhlig, Sarah Block, Percy Winters, Jr. , Jordan Muehe and Eben Pullman Tentative Agreement Summary 11.32% wage increase (5% COLA + 6.32% market increase) retroactive to July 1, 2022 3% Step
Read More »
Understanding the Collective Bargaining Process
As union members you are likely aware of our right to strike when contract negotiations break down. Some people have been asking why after bargaining for this long we are not planning to strike. The collective bargaining process is bound by rules and can be complicated if you are not familiar with it.
This collective bargaining process infographic gives an overview of this process. We are in the negotiation phase of this process (marked as "We are here" in the infographic). Although we have not reached an impasse, we have begun to host some escalation actions. We continue to have productive bargaining sessions. We have begun holding pickets and unity breaks as a way for members to show our solidarity and union power. These events have been very successful.
 Support your bargaining team, show your union solidarity, and let Multnomah County know that you demand a good contract!
Download a virtual background to use during online meetings! Detailed instructions for setting a virtual background in Zoom and Google Meet
Wear a union button, sticker, or t-shirt
Post a union placard in your workspace
Talk to your fellow union members about the importance of union solidarity
Come back to our bargaining webpage to learn more about the progress our union bargaining team is making 
2022 Contract Negotiations: What are we fighting for?