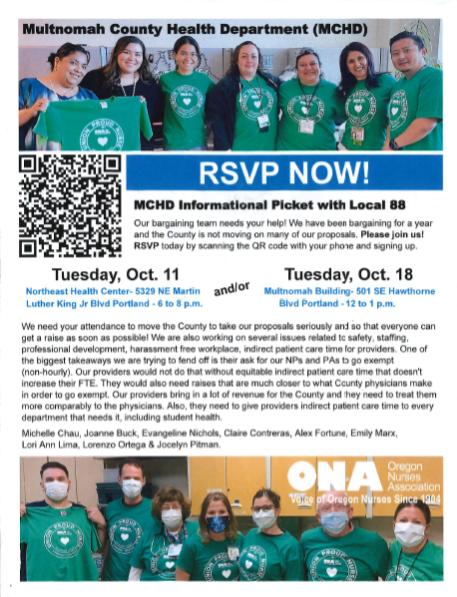 Dear Local 88 Family,
We appreciate all the support you have provided during our bargaining campaign with the  County.  We know that you are with us as we continue to push toward the finish line.  Before our 10/20/22 bargaining session, we have one more important action coming up to remind the County of our unity and that we demand a fair contract.  This action is being conducted in solidarity with our union siblings at the Oregon Nurses Association who are also in bargaining. We hope you will come join us. Picket signs, union swag, and solidarity will be provided.
Tuesday, October 18th Noon to 1pm Informational Picket – Multnomah Building – 501 SE Hawthorne Blvd, Portland. 
Our general unit team bargains again with the County, this Thursday, October 6th and Thursday, October 20th and our physicians bargaining team bargains again on October 13th and 24th.  You can support our bargaining efforts by wearing green, a union button or putting up a placard in your workplace.  You can also put a Union background up for your virtual meetings: Click here for AFSCME meeting backgrounds.  Click here for Instructions on changing your virtual meeting background.
For more information about our bargaining with the County, go to the bargaining page at www.afscmelocal88.org
In Solidarity,
Joslyn Baker,
AFSCME Local 88 President