A Message from President Joslyn Baker
August 10, 2023
At the suggestion of a union member, I have researched the history of the word "picnic" and I acknowledge the harm and historical context that can be associated with this word. I know if one person was impacted and said something, there are potentially others who were impacted and did not say anything. I appreciate this feedback and the opportunity to make the correction. I apologize to anyone who was harmed by the use of this word.
In Solidarity,
Joslyn Baker
President, AFSCME Local 88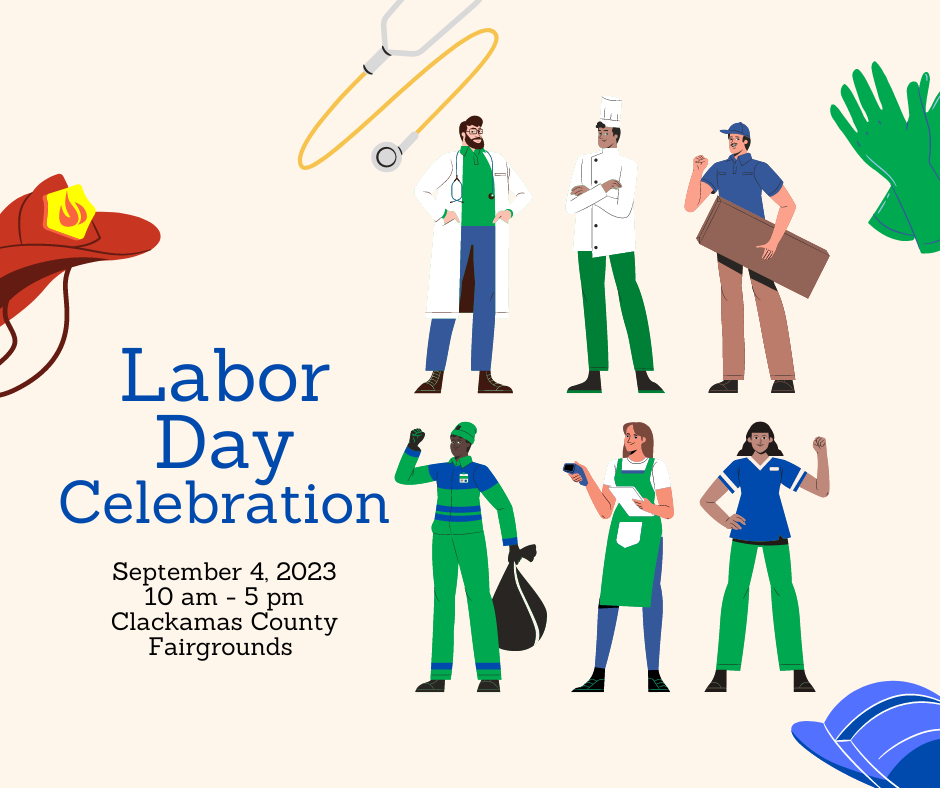 We're back! 2023 Labor Day Celebration: Monday, Sept. 4 at Clackamas County Fairgrounds
The Northwest Oregon Labor Council (NOLC) is hosting the 2023 Labor Day Celebration. This event is titled "We're Back" and will be held at the Clackamas County Fairgrounds Monday, September 4th, 10am-5pm.  
AFSCME Local 88 has approved funding to purchase 667 scrip tickets for members and their families to attend the celebration. Each ticket will provide a full meal, including drink and ice cream. There will also be no-host bars located around the site.
Tickets are available on a first come-first served basis to members of Local 88 and our sublocals: Dentist (L88-5), Pharmacists (L88-4), Physicians (L88-2), Juvenile Custody Support Specialist (L88-6), Transition Project Inc – TPI (L88-3) & Central City Concerns – CCC (L88-1). Scrip tickets will also be available for you to purchase the day of the celebration at the entrance gate for $15 each.
Sign up for your tickets online. We have a limit of 667 tickets so sign up before they are gone. You will receive a confirmation that you will receive tickets.  
NOLC would be grateful for volunteers to help with traffic, parking, and other tasks. Please email Sue Milne at officemgr@nwolc.org to sign up to volunteer or to answer any questions you may have.
Looking forward to seeing everyone at the celebration! 
Hi Everyone!
We are looking for volunteers to help at our Labor Day Celebration* this year! Set up will be on Sunday, September 3, from 10 am to 1 pm at the Clackamas County Fairgrounds. The celebration* will be Monday, September 4, from 10 am to 5 pm.
Here is a list of volunteers that we need:
Canopy and chair transport (Sunday and Monday): 4 volunteers with trucks
Pre-celebration setup (Sunday): 10 volunteers
Post-celebration breakdown (Monday): 10 volunteers
Caterer Scrip Ticket Taker (Monday): 2 volunteers
Kiddie bag handout (Monday): 2 volunteers
Solutions Team (Monday): 4 board members (Handle problems/questions & general flow)
Clipboard carriers for union members/delegates (Monday): 2 volunteers (roam the celebration* – am/pm shifts) **Will have pre-printed delegate list for checking that we have most current contact info
We can't do this without you! Please let me know ASAP if you are available to help, we would greatly appreciate it!
Thank you!
Sue Milne, Office Manager
Northwest Oregon Labor Council, AFL-CIO
Ph: (503) 235-9444
officemgr@nwolc.org
*Language updated to use the term "celebration."