2023 Contract Ratification Member Celebration
Our union fights hard to win, implement and maintain contract language that strengthens our workplace and holds our employer accountable.  Solidarity means we do this together, and includes celebrating our successes together.  Friday, April 23rd over 200 people (union members and friends and family, union leaders, and AFSCME staff) gathered at the  Hyatt Convention Center to dance, reconnect, laugh and cheer.
We chose this Hyatt location for many reasons, but top of this list is that this is one of four union built and union staffed hotels in Oregon.  Union members here are currently in arbitration related to settling their first union contract.  Thanks to the great team of staff at this beautiful hotel who made sure we had everything we needed for a well coordinated event.
The mood this night was festive.  DJ Mike Morris set the tempo just right for our boisterous group.  Drag Queens  Alexis Cambpell Starr and Lucky XOX  showed our union kiddos the true meaning of acceptance and what it looks like to be fabulous.  THeir performance was the highlight of the evening and the feeling of inclusion was palpable.  Thanks to the photography talents of Chase McIntyre, we will soon have oodles of lovely event photos on our website.  A member created a photo booth and created a space for selfies and portraits.  If you signed up for a portrait by Chase,  your picture will be emailed to you shortly.
Thanks to the following volunteers for helping with all the details needed to make this event a memorable one: Angie Robinett, Shelley Ashford, Desiree Wolcott-Cushman, Mecca Scott, Jordan Muehe, Beckly Lillie, Stacey Burton, HIlary Zust, Alice Busch, E Dominquez, Johnny Giddings, Gayle Wilson, Manuel Arrellano and Justin Epperly.
In an evaluation of the event, members expressed appreciation for the opportunity to gather in person after such a long time spent conducting most of our union business online.  Members loved this event and wanted more events like it.  Suggestions for  smaller events in the future, such as trivia night and union book clubs showed up in the evaluation..  Please note that all of our events, large and small, happen because of the creativity, time and talents of members like you. We work with AFSCME staff to host events that are inclusive and build the strength and solidarity of our union.   If you would like to help plan an event please reach out to me at president@afscmelocal88.org for details about funding and support available.  Keep your eyes on our website.afscmelocal88.org for resources, events and more. 
Thanks to the following union members for stepping up to represent our union at the 2023 OR AFSCME Convention. 
Percy Winters, Jr – Health Dept (elected as Oregon AFSCME 1st Vice President)
Manuel Arellano – Library
Johnny Giddings – Dept of County Human Services (elected as Oregon AFSCME Executive board member)
Megan Gallagher – Multnomah County Sheriff's Office (MCSO)
Shelley Ashford – Library
Hilary Zust – Department of County Human Services
Grant Swanson – Library
Kyle Eilenfeldt – Library
Maya Noble – Office of Diversity & Equity (ODE)
Jackie Vitron – Department of County Human Services
Joslyn Baker attended the convention in her role as OR AFSCME Regional District 3 Vice President (RD3VP) and Local 88 president. 4/30/23 marks the end of Joslyn's 2 year term as RD3VP for Oregon AFSCME.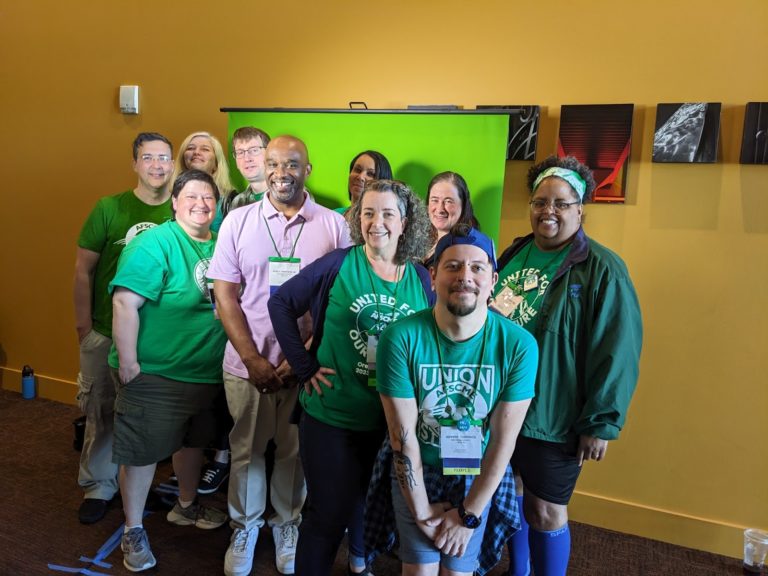 Local 88 & Oregon AFSCME Meetings
Check out our calendar of events.
Local 88 Cabinet Meeting 4/26/23

Local 88  Executive Board Meeting

Local 88  General Membership Meetings 

AFSCME Staff Weekly Meetings – group and individual 

Oregon AFSCME

Presidents and Board Briefing

– 4/4/23

Oregon AFSCME Building Comm – Portland  AFSCME building sold and we are narrowing down our selection for a new location. Council 75 will vacate the current building 6/15/23.  Discussions are taking place regarding an opportunity of mutual interest for local 88 to loan funds to Council 75 to aid in the purchase of a new building. 
County Elected Officials Meetings
 Chair Jessica Vega Pederson and Serena Cruz (COO) 4/25/23 – Union members joined to focus on proceed cuts of the health department central lab and supporting successful completion of the Pharmacists in bargaining their first union contract.  
AFSCME Local 88 PAC (Political Action Committee) Process
Learn more about the race for Multnomah County Commissioner (District 3).
Ongoing communication efforts 
NW Labor Press

Website Updates

Social Media – twitter and facebook 

Membership Emails (as needed)
Departmental Steward Meetings

Departmental Labor Management Meetings 

Lead Steward Meeting –

Monthly

Visit afscmelocal88.org to register to attend our online Local 88 Eboard and General Membership meetings 
Member Action Teams (MAT) –

.If you are having an issue at work, and it isn't resolvable through the grievance procedure, get in touch with Kristian Williams:

kwilliams@afscmelocal88.org

 

Become a Steward

– learn about this process.  Information about required training

can be found at

oregonafscme.org/trainings

.  

Conversations with members and stakeholders
In 2022 our bargaining team ratified a new union contract in the General unit (AFSCME Local 88) – Check out our brand new AFSCME Local 88 General Unit contract. Contracts were also ratified in 2022  by our following AFSCME Local 88 sublocals: 
Physicians Unit (Local 88-2)

Central City Concern (Local 88-1)

Transition Project Inc (Local 88-3). 
Before we had a chance to rest, we are back at the bargaining table for the following AFSCME units in 2023: 
Dentist (Local 88-5)

Pharmacist – first contract (Local 88-4)

Juvenile Custody Services Specialist (Local 88-6)

Market Rate Adjustment Study

(year 1 of 3 consecutive years)  
Meet with Complaints Investigation Unit (CIU) Director – Andrea Damewood – 4/25/23
Eviction Representation for All Tenants – Renter's Rights are on the Ballot in Multnomah County this May, and ERA is busy spreading the word! If you have received this email, please help us out by forwarding it to your staff and networks. 

Canvassing – Does your organization have experience with canvassing, or is interested in learning more? Then look no further. Attached you will find all of the information your organization needs to start knocking on doors for ERA and get out the vote in your neighborhoods.

If you don't want to plan your own, we have a canvass scheduled every Saturday and Sunday until the election on May 16th, at parks all over Multnomah County! Rain or shine, dress for the weather. Coffee and food will be provided. Plan for 2 1/2 hours which includes training and then doorknocking. All of our events are on the calendar page of our website.

Sign up here!



Social Media

Check out our social media posts and graphics for this week.



Follow us on

Twitter

,

Facebook

, and

Instagram
Know Your Contract - Training
As we're adding the final touches on our newly negotiated contract, we would like to spend some time with the leaders, stewards and members as we get to know the new additions in our CBA. We're scheduling the following meetings as a space to review, dates and links below. (you only need to attend one session).
Continue bargaining in various sub-locals- and market study (see above)

Recruitment for new Local 88 officers and executive board members.  Nominations will be accepted at the September 20th

Local 88 General membership Meeting